PRODUCTS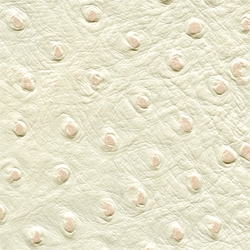 Exotics
Colour : Ostrich Cream (5130)
Description :
Description:
Crocodile and Ostrich imitation leathers produced on bovine hides.
Thickness : 1.0/1.2mm.
Average hide size : 50sqft (4.6 sqm)
This article is also sold in half hides 25 sqft (2.2 sqm)
Suitable for domestic, contract and marine applications.
Cleaning: – a damp cloth and a pure mild soap solution will remove most stains. Care should be taken not to soak the leather. A number of proprietary leather products can be purchased to care for this type of leather.
Test Methods
EN ISO 11640  ISO 11641
Leather Characteristics
Colour fastness to-and-fro rubbing
Dry
500 Cycles, min 4 grey scale
Wet
80 Cycles, min 3 / 4 grey scale
Perspiration
50 Cycles, min 3 / 4 grey scale
Colour fastness to light
Min 4 Blue Scale EN ISO 105-B02
Finish Adhesion
Min 2N/10mm ISO 11644 Dry Adhesion
PH and ΔpH
Min 3.2 If the pH value is below 4, ΔpH < 0.7 EN ISO 4045
Tear Strength
Min 20N EN 3377-1